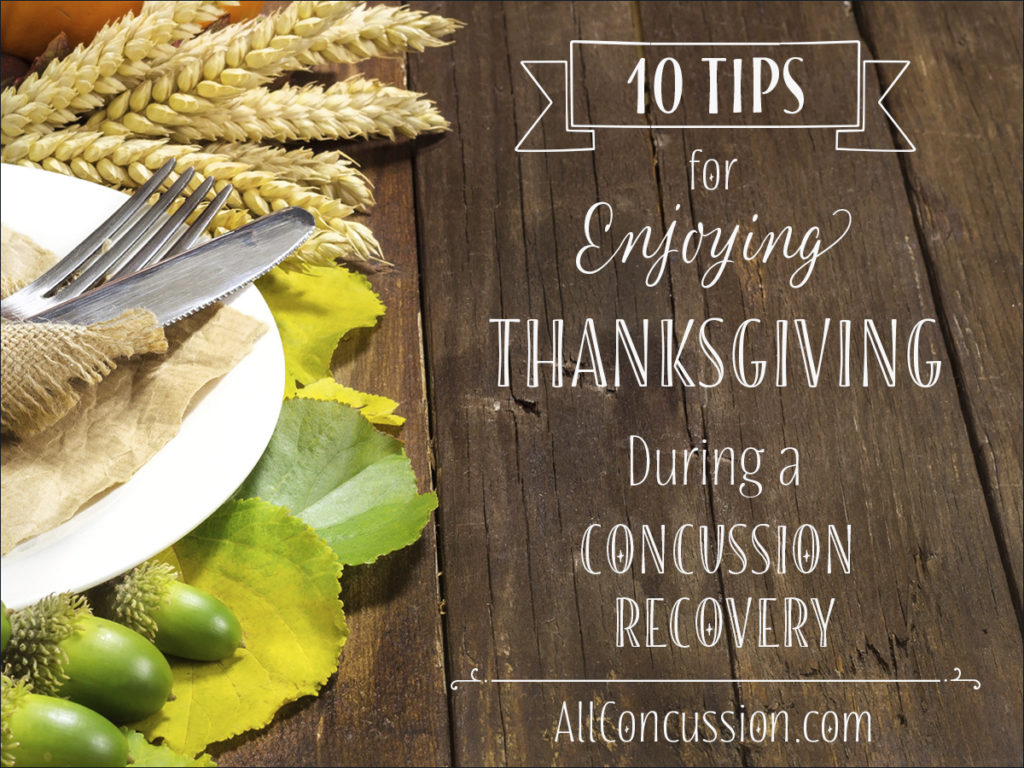 Thanksgiving is the beginning of the busy holiday season and is a favorite of mine. Steeped in tradition, it also presents some unique considerations for someone with a concussion. Here are some tips for hosting dinners, attending dinners, traveling, shopping, and more. You need not give up all traditions, but it's helpful to manage your activities such that you can enjoy them more. Read on for some thoughts to help you accomplish this and participate in the holiday.
1. Adjust Your Expectations
I get it. You've always hosted Thanksgiving dinner. Or it's your turn this year. Either way, you want to host the dinner. That, of course, translates into much extra work with menu planning, grocery shopping, taking linens and dishes taken out of storage and washed, house cleaning, and ultimately, cooking and hosting guests.
If you are recovering from a concussion, all that can be overwhelming.
One of the most difficult things to accept when dealing with a concussion is the fact that you cannot do as much as you once did. You have to adjust your expectations. Scale back if you need to. Think of it this way:
It's better to reduce effort and still be able to do something partially than to try and do everything and end up with a setback that could last for days.
In other words, it's not all or nothing. Think about this:
80% is better than 0%.
Thoughts on how to achieve this are in the following tips.
2. Have Someone Else Host
If you're having difficulty handling dinner preparations on a regular basis, you likely won't be able to host a large Thanksgiving gathering and meal. Be realistic. This year, ask someone else to host the dinner. Assume that next year, you'll be through your recovery and able to host if you'd like.
3. Ask For Assistance
If you think you will be able to host a dinner after all, have other people bring side dishes – more so than usual. I think that people will be glad to help. Also, if a guest isn't already planning to bring a tried-and-true trademark dish that is a favorite of everyone, ask them to bring it. That will make the dinner even more special.
Another idea is to perhaps split the work on some food prep. I thought of this because traditionally, my husband makes pumpkin pies on Thanksgiving. I always make the crust, though. That's an example of splitting a task. Be creative. What can you do to maintain as much of your tradition as possible without wearing yourself out completely? What can you delegate?
With that in mind, ask some people to come early and help with final preparations. You needn't take on all the work yourself.
4. Prepare Side Dishes and Ingredients the Day Before
If you've decided to host the dinner, review your menu beforehand. Everyone has their traditional dishes that they've always prepared. This could be a good time to step back and look at some new recipes. Consider revising your menu. Find side dishes that you can prepare the day or night before. Look at this as an opportunity to try something new.
If you do try a new recipe, try it a few times beforehand. As you know, it can take a time or two to get a feel for a recipe or tweak it a bit. Try it out and work out any kinks before springing it on a crowd at a holiday meal. Also, you might find that it doesn't work as well as you thought. Experiment a bit. Have some fun. Who knows? Maybe you'll discover a new recipe everyone loves that you might not have tried otherwise. It could be one of those positive side effects of a concussion that come up as a surprise periodically.
5. Start Preparations Now
As I'm writing this, it's a week before Thanksgiving. Now is a good time to work on some of the tasks. This will limit the amount of exertion required the (short) week of Thanksgiving. For example, start pulling items out of storage and washing them. Start your grocery list. Review your cupboards and pantry. Do you need to purchase some staple items or replace some items? Sales will begin for common Thanksgiving-related food items, if they haven't already. Watch for those.
Also, if you have other items you'll use for Christmas and holidays in December but aren't ready to pull out of storage yet, move them out as much as you can. That'll make it easier when it's time to access them. You won't have to spend as much time.
6. Plan, Plan, Plan
Think ahead as much as possible. The more you plan and get ready beforehand, the easier and less stressful Thanksgiving will be. That's a win. Added stress could magnify already difficult concussion symptoms. Plan and implement your preparation tasks as described above. Whatever you can do beforehand takes pressure off the coming week. Also plan for food preparations and purchases.
Here's an example where some planning might help. One potential result of concussion is a reduced household income. With that in mind, look for savings and stock-up opportunities. Before Thanksgiving, for instance, you could clear space in your freezer and purchase a frozen turkey (or an extra) to store for later consumption. Prices will be lower, of course, so it's a good opportunity to save some money. Also, stores usually have specials where they give free turkeys if you spend a certain amount of money on groceries. There will be some bargains, so look around.
7. Plan to Stay At a Gathering for a Shorter Time
If you're going to attend a Thanksgiving dinner at someone else's house, adjust your plans a bit. Assume that you'll get tired. It might become too noisy for you. You might want to arrive a bit later than you normally would, or leave earlier. Or both. People generally don't understand what it's like to have a concussion. It might help to explain to your host beforehand that you might get tired or your head could start hurting or other symptoms might come up, in which case you'd likely want to leave early.
If noise bothers you while at the gathering or other symptoms come up, consider asking to rest in a separate room for a bit while you're there.
For some, holiday gatherings can have difficult family dynamics that result in added stress. If that's the case and it exacerbates symptoms, consider shortening your stay.
8. Limit Alcohol Consumption
Consider avoiding having some wine with dinner or a few beers with the crew while watching the Turkey Day football games. Alcohol consumption is not recommended if you have a concussion or brain injury.
If you're driving to the gathering, I recommend avoiding alcohol entirely. Even without drinking, your driving reaction time might be slower due to your concussion. If you drink in addition to that, it could be troublesome.
9. Plan Your Travel
Whether you're driving over the river and through the woods to Grandma's house or traveling on a plane, plan traveling to minimize difficulties with your concussion.
A very important aspect of venturing out for an activity is planning for the return home. It's very easy to think only about getting to the gathering and the stay duration. Don't forget – you have to get back home. If you drive somewhere, for instance, leave before you think you'll get tired. You don't want to suddenly be hit with fatigue while driving (a dangerous situation for all). Either ride with someone else or leave earlier.
If you're traveling by plane, dress comfortably and limit your carryons. Get to the airport earlier than you might otherwise. Thanksgiving is a busy time for air travel. More passengers might result in longer lines everywhere. Lessen your stress and get there even earlier than normal. Don't forget to factor in driving time to the airport. Will daily commute backups affect that?
If you have a layover, book your flight with a little longer layover. Allow enough time to get from one gate to another, maybe get some food, walk around – whatever. Remember that some airports might also require a shuttle to another terminal. Who wants to have to hurry or run through a noisy, bustling terminal dragging lots of carryon luggage? Not someone with a concussion, I'll tell you that. The possibility of inclement weather might be a factor. Whatever you can do to minimize stress with traveling, do so.
10. Avoid Shopping Crowds
Skip the Black Friday events this year. Being in a crowd is difficult enough. Being part of a jostling, rushing, noisy, packed crowd is another thing entirely. You'll pay a high price recovery-wise that will wipe out any monetary savings that may result (if you ask me). I could see such an outing resulting in a setback that lasts for days. That would definitely not be worth it to me.
One option is to look into Small Business Saturday events. That's the Saturday after Thanksgiving and provides the opportunity to support local merchants. I think it's a less stressful shopping experience than being in a crowd somewhere.
There will likely be shopping crowds anywhere you might go over Thanksgiving weekend. Be careful and mindful of your concussion. Here are some ways to minimize problems if you do decide to venture out. Shopping that weekend might be a tradition for you and your friends or family, after all. You might want to participate as a way to get part of your life back, for instance. Plus it's good to get out sometimes. With that in mind, here are some ideas.
If going to a mall, go early in the morning and call it a day after lunch. I think the crowds would be smaller in the morning. Food courts in malls are noisy. That could exacerbate symptoms. So if you start early and end with lunch, you might not get as tired. If you shop and walk around for a few hours (with some breaks) you'll probably be getting tired. A trip to the noisy food court could be the final straw that puts an end to your day and brings on the headache and noise and light sensitivity. Another idea is to go early and have lunch somewhere outside the mall where it would be quieter. Just remember: you don't always know you've done too much until you have. If you overdo it, you could have a setback that lasts a few days. Be smart and have a plan. If you can ride with someone else, that's a good idea, too.
In Closing …
That's all I can think of at the moment. Here are some final thoughts. Thanksgiving is a wonderful holiday. It's a time to sit back, relax, and reflect. If dealing with a concussion, there's much for which to be thankful. Caregivers are at the top of the list. They may have had to take on extra responsibilities during your recovery. Thank your family, friends, and anyone else who has supported and helped you through this most difficult time. One result of my concussion was the solid realization that it's the people in your life that matter the most. Enjoy spending time with everyone.
Happy Thanksgiving!
Related posts: