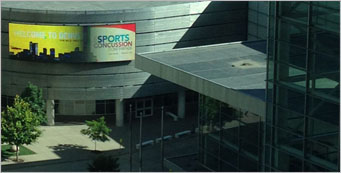 Through the generosity of supporters via a crowdfunding page I set up, I was able to attend the second AAN Sports Concussion Conference in July. During the conference, I didn't tweet as much as I normally would. There was so much information shared that I opted to take notes instead and write blog posts afterward.
This is the first such post. It's an overview that captures some of the highlights. I've also included some information about something that concerned me. I'll be writing other posts as well.
It was an excellent conference. Read on to see some key points. Permission was granted at the conference to tweet about it, including presentation slides. These points are the types of items I would have shared in tweets.
If anyone sees something needing correction, send me a note and I'll fix it.
Favorite Quote
Dr. Walter Koroshetz
Keynote speech
"We do not have the tools to see the pathology" of concussion.
I like this because I've said for so long that for those with concussion and lingering post-concussion syndrome, it's not that we can't prove that we have a concussion, it's that the tests don't yet exist to show it. For me, this comment was a welcome one.
Favorite Session
Pathophysiology of Concussion
Mayumi Prins PhD of UCLA
Here are some of the topics covered:
Detailed description of neurometabolic cascade in acute stage
Description of repeat concussions and what happens if one occurs in set numbers of days in a recovery
Effect of concussion on adolescent brain pruning
Endocrine issues
I would love to see a recording of this. I think it would be very helpful to the public. Just like there are some studies that I think should be free of charge to see in journals because of the importance to the public, I think this falls into that same category. If it's at all possible to provide a recording of this for the public, or to record one and make it available, I think it would be great.
Biggest Gaps Identified
Costs and funding surfaced multiple times. We were able to learn varied ways in which funding is an issue. Speakers in multiple presentations identified gaps relating to those topics with regard to concussion.
Dr. Koroshetz noted in his keynote speech that there are public funding issues with medical research. However, in terms of funding, neuroscience is now the major focus of the NIH, now surpassing cancer in that regard. That's good news. More is needed, though.
Dr. Resch shared information about costs of baseline testing, and described how it can vary from small amounts ($90 for 200 athletes) to highly expensive amounts ($60,220 – $130,200 for 200 athletes, impacted by balance testing equipment). Even with computerized baseline testing vs. use of the SCAT3 and paper-based tests, there is still a difference in cost that I think could preclude some schools or organizations from having enough funding for tests.
Dr. Hotz pointed out the benefits of having athletic trainers available and that only 40% of schools have them on staff. Of course, this is a cost issue of which we've long been aware; not all schools can afford to hire ATs. One plus to having ATs is that they've found that ATs send information to doctors before an athlete goes to the office. Emails and film are two examples that Dr. Hotz shared.
This wasn't a topic of discussion, but as long as I'm discussing costs related to concussion, I'll bring up another: funding for advocacy work. I set up a crowdfunding page to garner enough funds to attend the conference. Thanks to my supporters, I was able to attend. However, I think that more funding for those providing information and assistance would be helpful.
All Star Award
I'm waving my magic wand and awarding my All Star Award to the AAN for their female-friendly conference. There has been much discussion again lately about all-male panels at conferences, but that was definitely not the case at this one. There were many excellent female presenters and they shared detailed information.
I would love to see the AAN and researchers continue along this path. Let's roll with this and take it to the next level: focus and research on endocrine issues for females following concussion. What a great topic for next year!
The AAN also allowed me to register at the reduced rate, which was a savings of $500. I would not have been able to attend otherwise, so I appreciate that.
Post-Concussion Syndrome
The entire first group of sessions on the second day were devoted to PCS. Of course, that's at the top of my list because I've worked on it for so long and it's of interest to my followers. For now, here are some quick points. I'll write other posts as well.
Dr. Nicole Reams: Post-Concussion Syndrome Identification and Management Approach
Some factors that could extend symptoms: neck injuries, vestibular issues, and (over-the-counter) medication use and overuse.
Re medication overuse, she referred to over-the-counter medication that patients take often and one person in the case study mentioned took a version of ibuprofen "around the clock"
Doctors varied in their definition of onset of PCS: anywhere from less than two weeks, two weeks to one month, 1-3 months, and more than three months.
Dr. Reams also reviewed information about rest, the physiogenesis and psychogenesis aspects of concussion and testing options.
Dr. Gillian Hotz: Managing PCS in a Neuro Sports Clinic
This was one of my favorite presentations. Here are just a few notes:
They (the University of Miami) takes a prevention approach.
As mentioned earlier, they see great value in the services of athletic trainers.
She doesn't believe that all teens require a full battery of neuropsychological testing.
Education for players is needed. They hired a former NFL professional football player to assist with education. It helped, but more is needed. (See the video below for additional information.)
Kathryn Schneider, PhD: Vestibular Therapy Approaches to PCS
Here are some notes from Dr. Schneider's presentation:
"There has been an explosion of information in vestibular"
There are many sources of vestibular issues: visual, vestibular, neck
Dizziness is a predictor of prolonged recovery
Vestibular exercises can increase dizziness. That is Ok for about five minutes or so, but not if it worsens headache. If so, address the headache.
Notes
There was also information in the first session regarding the physiology of concussion, and others regarding how PCS is viewed after a certain point (as emotional issues in particular). It's too extensive for this post. I'll cover that in a separate post.
Biggest Need for Guidelines
When to call in or refer to a neuropsychologist: I heard varied opinions but no consensus on a timeline for this. I don't believe anyone really knows. The topic warrants further discussion, I think. Guidelines would be helpful.
Up-and-Comer
Return to Learn (RTL) was prominent in the discussions, which is a great development. I believe (as do many others) that RTL should be the initial focus on recovery, not RTP. It's wonderful to see more attention paid to this topic.
Dr. Karen McAvoy gave a comprehensive presentation packed with information about RTL. Some of her key points included:
They don't wait for students to be symptom-free before returning to school.
Before allowing RTP, students have to RTL and be 100% symptom-free.
Educators need to be part of the concussion management team.
Here is the website she has developed along with Brenda Eagan Brown:
RTL was also mentioned in other presentations. In one, Dr. Hotz stated that "We have years of work to do"  regarding RTL. She gives parents two copies of forms and directs them to give one to the AT and one to the school.
Notable Comments
Based on some presentation content and periodic questions and comments, I'd say that physicians in attendance were definitely interested in learning, sharing, and collaborating to determine how to treat concussions.
Scariest Comment
An attendee that is an ER physician stated during a comment session that the majority of ER doctors do not know how to handle concussions. This I believe, because I frequently hear from people that they didn't receive much concussion-specific information or instructions upon leaving the ER.
New Terms
Doctors are likely familiar with these, but they're new to me! I thought I'd share them here.
Brain pruning
Dr. Prins stated that ages 13-19 are a "significant pruning phase" and that with a concussion, the normal pruning process does not occur. For your reference, here's some background information I found about brain pruning in adolescents: Adolescent Brains are Works in Progress.
Holocranial pain
Dr. Nicole Reams presented information about a case study involving a female athlete. This athlete had holocranial issues involving multiple symptoms, including headache, nausea, and sensitivity.  A holocranial headache is one involving the entire brain.
Coolest Thing
Dr. Hotz discussed how education about concussion is important and shared some experiences the University of Miami has had regarding that topic. She shared that a student came up with a rap about concussion symptoms and their seriousness. They created a video of it. Take a look!
Trends in Managing Concussions
There was a question asked of the audience in the Town Hall session: should neurologists be the main physicians or specialty to treat concussions? (I think they should be.) One doctor stated that he's seeing fewer acute injuries because they're being handled more by other medical personnel such as those at ERs and sports clinics.
In one of the poster sessions, Morgan Shepard discussed the work last year by the Mayo Clinic and ASU in using telemedicine to evaluate concussion.
A physician I talked to shared the idea that perhaps neurologists might be used on a consulting basis at times.
As stated earlier, Dr. Hotz shared that ATs sometimes provide information to a doctor about an athlete's injury before said athlete's office visit. (Hint, hint again: IMO, ATs are amazing and very much needed.)
Dr. McAvoy shared that they usually have a contact person at schools (usually a nurse and sometimes a counselor) to address educational requirements.
As you can see, there's a variety of approaches and viewpoints. I see some creative thinking, which is good. It will be interesting to see what other ideas come up over the coming year and how concussion management changes.
Suicide and Depression in Athletes
Dr. Solomon discussed this important topic. Here are some key points he made:
Suicide rates for athletes are lower than those for the general population.
There have been few studies regarding mood disorders in college athletes, and even fewer in concussed collegiate athletes.
There is no clear evidence that concussion causes suicide (per a slide note)
In a 9-year study of suicide in Division I, II, and III athletes, male football players had the highest rate. Other sports with high suicide risk were soccer, track and cross-country, baseball, and swimming.
He attributes some of the negative focus on suicide and depression to media coverage.
CTE
Dr. Barry Jordan's presentation is another one that I think would be beneficial to share with the public. It had excellent information about a topic about which people have great interest. Here are some points he made.
Risk factors: exposure, poor performance, APOE genotype
Exposure is the highest risk factor
Poor performance: if you don't play well, you'll be sitting on the bench and won't have as much exposure
Most earlier studies came from boxing
Corpus callosum is predisposed to repetitive trauma
APOE genotype: there was a study looking at exposure in boxing. Those with a higher number of exposures and APOE had a higher risk.
On a related note, Dr. Kutcher mentioned that he has been increasingly asked about CTE from parents.
Most Disappointing
<begin soapbox>
Several presenters made very negative comments about those with non-sports concussions. One said that those with sports-related concussion are more motivated to recover vs. those that sustain concussions through a car accident or some other cause. Another said that people who've sustained concussions outside of sport "run from" recovery. In addition, I also heard parents described as being "neurotic" and demanding.
With regard to recovery, I think this is a fairly common view, not just at this conference. With regard to the recovery viewpoint, I've heard it often. So while I wasn't completely surprised to hear these comments, it still concerned me. Yes, I realize that this was a sports concussion conference, but the same things apply to those who have not sustained a concussion due to sports.
Real life is not a game. There are very real financial and family impacts to those who sustain concussions outside of sport. To repeatedly infer that people aren't as interested in recovery is insulting and extremely frustrating to hear time and again. This presents a very negative view to the public which is very difficult to have to defend.
In addition to myself, all concussees I've met, conversed with, or interacted with want their life back the way it was as soon as possible and continually seek answers to facilitate that. I've yet to meet anyone using their concussion to try to escape or run from their responsibilities as was stated.
It would be nice to see some respect and consideration for concussees and parents. Perhaps in any future concussion conference hosted by anyone or in physician offices, this won't occur. I think this can change. I'm hopeful.
<end soapbox>
Wrap-up
This was an incredible conference. The agenda covered a wide range of topics. The presenters provided excellent information. I was glad to see discussions regarding planning for next year already underway as it was coming to a close. My thoughts for next year are these:
Include sessions on endocrine and pituitary issues
Include sessions specific to females
Include sessions regarding advocacy
Consider expanding the agenda and having multiple tracks
I'd also like to share some of Dr. Giza's closing thoughts:
"As researchers, we need to hold ourselves to a higher standard." He asked for "no sloppy science" and to complete "critical reviews."
With that, the topics selected, the speakers, the information shared, and the interest I saw by physicians and others in learning more and collaborating, I'd say the conference was a winner overall. Good job, AAN and organizers!
Related posts: