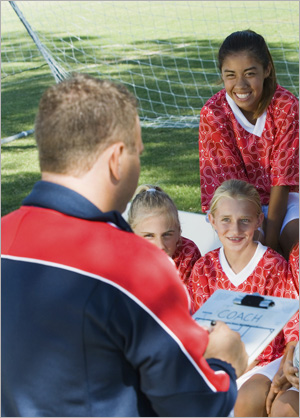 The amount of coaching materials regarding concussion seems to grow by the day. Of all the areas in which I've seen more focus as time goes by, one of the leading focuses is for coaches. I'll give a big tip-of-the-hat to coaches concerned about this matter and seeking information, and to the organizations working to get that information out as quickly as possible.
No matter what you coach, what sport or age group, there is information and training at your disposal. Here are some resources for you.
In addition to the items listed below, check locally or for your college, school district, or organization. If there aren't guidelines and you'd like to have some set up, consider taking the initiative to set something up. If you're a coach and you've found this page because you're looking for resources, you're the person that can get the ball rolling. Go for it!
On that note, if you're looking to develop or update guidelines, review these. Maybe there's something in one that would be helpful to add to your guidelines. Everyone wins!
CDC
The CDC has quite a bit of information available regarding concussion, and much is specific for coaching. For information about symptoms, prevention, and materials that you can download and customize, see my CDC HEADS UP microsite page. Information is direct from the CDC.
Here are some specific links.
Responding to a Concussion and Action Plan for Coaches
Sports-Specific Concussion Information
There are materials for multiple sports and coach-specific materials for some. It's definitely worth a review.
These are the basic symptoms for concussion. The list includes symptoms and situations to look for in game situations.
This tells you what symptoms indicate a need to call 911 immediately. Commit these to memory!
Here's a great video the CDC created to encourage concussion reporting. It's very good. Take a look!
Organizations
There are a number of organizations that also provide information.
National Athletic Trainers Association (NATA)
Given that athletic trainers work with teams, it's only fitting to see what guidelines are in use. Here's information from their 2014 update.
NATA Issues New Position Statement on the Management of Sport Concussion
This page has quite a bit of helpful information. Take a look!
National Athletic Trainers' Association Position Statement: Management of Sport Concussion
This is the actual position statement document that has detailed information. It's definitely worth reviewing.
Parachute Canada
If you haven't taken a look at this site, I suggest you do. They're always working on concussion and have some good resources. Here's their coaches guidlines.
Roles and responsibilities of coaches and officials
Football
For coaching youth football, one of the first places I would look would be the USA Football website. It has so much information. There are videos of the newer tackling techniques. There is training, certification, newsletters – quite a bit. My advice: poke around a bit on that site. There's much to review. For now, here are a few main links.
USA Football – Heads Up Football
This is the main website link.
For training and certification, this is the page to review.
This is the main page for this topic. On the page you'll find a number of videos. There are videos for each step. Take a look and share them with your fellow coaches, players, parents, and other interested parties.
YouTube channel: Heads Up Football playlist
There are many videos on their YouTube site. This is the playlist that focuses on their Heads Up program.
Pop Warner
It took a while, but Pop Warner made some progress regarding concussion awareness. Here's a link to their policy.
Females
There was a noteworthy event this year: a girls tackle football league formed. It's the first for the younger age group. There was much debate and focus put upon this. My question, though, regards safety. While the league does use Heads Up methods, I wonder how these apply to girls. Are changes needed due to differences in neck structure or brain development timelines? Is different equipment needed? I don't know and I haven't researched it much yet. For now, here's a link to their rules page. These aren't guidelines, but I think this should be on your radar.
Utah Girls Tackle Football League
Speaking of football for females, here's a link to the Independent Women's Football League rules information. I quickly scanned the site but see no specific concussion information.
Independent Women's Football League
High School
National Federation of State High School Associations (NFSH)
Concussion in Sports Elective Course (online)
The NFHS developed this in conjunction with the CDC.
……………………
CDC HEADS UP to High School Sports: Coaches
This is specifically for high school. This page includes published materials you can download and customize: full-page brochures and handouts, posters, a coaching guide, wallet cards – just about everything. Definitely take a look at this. Download for your use and share as you think would be helpful.
College
There are guidelines available, but I'm having difficulty finding some for specific conferences. However, the NCAA guidelines are a start. My advice: review those and look up your own college or conference to see what's available. If you can't find any information, please contact me.
NCAA
In July 2014 the NCAA released concussion guidelines. From what I can tell, they've not been updated at this point (7/5/15). Here's a link.
News release: New guidelines aim to improve student-athlete safety
Athletic Conferences
I've been searching on conference websites, but haven't yet been able to find specific concussion guidelines. There are some instances where there are news stories about regulations and guidelines, but I'm not finding specifics. This is something I'll be looking into more.
Rugby
Rugby went through much discussion and advocacy in 2014 regarding concussion to initiate change in the sport. Here are some guideline resources.
World Rugby
There are a number of guidelines to review on this page.
World Rugby Concussion Management
Scotland
One of the top news stories so far for 2015 is the release of the Scotland concussion guidelines that are for multiple sports, not just rugby.  They apply to the entire country – a first such development. Here's a link to the guidelines and some related news articles. Good job Scotland!
Scottish Sports Concussion Guidance
News articles:
Scottish Rugby contribute to new concussion guidelines
Scotland launches standard sports concussion guidelines
World Rugby welcomes Scotland's standard sports concussion guidelines
Females
There has not been enough research regarding females. Here's some information I found.
FIFA guidelines
Website section: Health and Fitness of the Female Player
This is the section for health topics for female players.
Health and Fitness for the Female Football Player
This is a 63-page publication that has much information about many aspects of health and soccer for females. There's a section on head injuries and much more.
For additional information regarding soccer, see this post:
Concussion Guidelines for Soccer
Related posts: