Here's a roundup of some soccer concussion guidelines. Some are sport-specific. Some are within larger health guidelines. Some are more robust than others. Take a look!
Note: In 2015, US Soccer banned heading for those under the age of 10. There's more information below in the US Soccer section.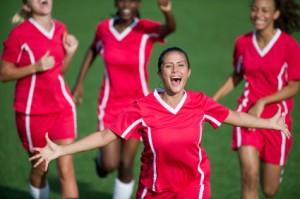 CDC
The CDC has quite a bit of information available regarding concussion. Here are some key links for guidelines. For information about symptoms, see my CDC HEADS UP microsite page. It has much information for you about symptoms, prevention, and has materials you can download and customize. Information is direct from the CDC.
FIFA
FIFA has a variety of resources available, including a section specifically for female players.
All Players
This is the main page for the section regarding health issues for soccer players. There is a wide range of information to access from this page.
This is very basic information about potential head injuries due to soccer.
Females
Website section: Health and Fitness of the Female Player
This is the section for health topics for female players.
Health and Fitness for the Female Football Player
This is a 63-page publication that has much information about many aspects of health and soccer for females and is definitely bookmark-worthy. It includes discussion about two important topics for female athletes: bone health and menstrual cycles. Those are part of the female athlete triad and are important to keep in mind. There are also sections on nutrition, injury prevention, and ankle and ACL injuries.
The concussion section is good and encompasses several pages. Take a look!
US Soccer
US Soccer: Sports Medicine > Concussion Guidelines
US Soccer provides some general guidelines, forms required, and a RTP progression. There are also links for other reference materials.
Note: As of 11/2015, US Soccer banned heading for those under the age of 10. Heading is also limited in practices. This is the result of a lawsuit. Check the guidelines mentioned above for more information.
NCAA
I don't know that there are any soccer-specific guidelines. Instead, here's a link to the overall NCAA concussion guidelines and related topics.
Concussion Guidelines: Diagnosis and Management of Sport-Related Concussion Guidelines
……………………
Do you have any guidelines to add to the list? Leave them in the comments! Thanks –
Related posts: