Concussion is an evolving story. Never has this been more evident than in this past year. While in years past, awareness was a main goal (if not the main goal), this year brought an expansion of topics and developments. There has been a leap in awareness, interest, and information. This was one of the most incredible years I've seen so far since my concussion, and in my three years of advocacy work in particular.
Initially, I planned a Top 10 post. However, I quickly realized that it wasn't enough. I expanded it to 15 and could probably add more. This is a long post, but there was much to cover. These, then, are my thoughts on the top concussion stories of 2014, a pivotal year.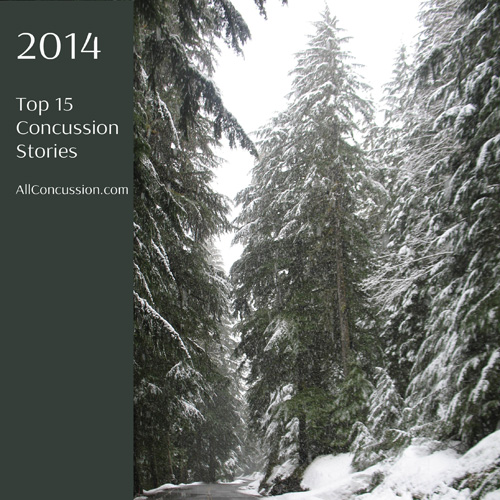 1. White House Concussion Summit
This, I think, was the most exciting event of the year with regard to concussion. After working to raise awareness for a number of years, this Summit was wonderful to see. It was held on May 29th at the White House. Focus on the issue was and still is needed, and this event definitely had high interest and news coverage. It provided tremendous focus on concussion, albeit temporarily.
The Summit gathered quite a few experts, people with concussions, and those with interest in it. You can see the video of the event on my Meetings and Conferences playlist on my YouTube channel. To see news stories and articles related to the Summit,  take a look at my Concussion Daily paper May 29th and May 30th editions. You can always check the archives as well to review those dates.
2. Rugby
When it comes to concussion awareness for a contact sport, every sport follows the same general cycle: there is some awareness, a fight for culture change, examples of bad calls & outdated thinking or denial by team doctors and coaches, more awareness, and finally: change. This year, it was rugby's turn.
It truly was an evolution. Some notable aspects regarding rugby include the tragic story of Ben Robinson, as this article from December 2013 describes. It continued to come up in 2014. In May, Shontayne Hape of New Zealand shared his story, which greatly impacted the rugby world. I distinctly recall when that came out. It was a weekend, and suddenly my Twitter feed was overrun with this story. I thought "what on earth is happening?" Clearly, in my mind, for rugby and concussion, I'd say that Shontayne Hape sharing his story is a major milestone. I invite you to read it.
Additional moments in this pivotal year included an instance where player Florian Fritz was injured in a game and put back in. It was a big story and resulted in much outrage and discussion. Also, Kenny Nuzum, a rugby player who died at age 57 was determined to have had CTE. His was the first such diagnosis for the sport. I pulled together some of these stories in a special rugby issue of the Concussion Daily: see the June 2nd issue.
By the end of the year, much had changed in rugby. New guidelines were released. There was also a concussion session at the IRB World Conference. Perhaps most rewarding, after all of the turmoil of the year, came this story. Killian Byrne posted an article about his 9 year-old son who sustained an injury in a game (a must-read article, IMO). The referee and coach followed the new protocols and refused to let him continue, his parents benched him for a bit, and Mr. Byrne shared this story and encouraged others to learn about concussion. As one who has been involved in advocacy for years and know how difficult it is to make these changes, this was an incredible moment. I thought: "It's all worth it. All the frustration. All the work." It's what you hope for. Safety came first, and a boy was removed from a potentially serious situation. That's what it's about, mainly. The kids. What a wonderful way for the tumultuous year to wrap up.
3. Female Concussions
Sadly, 2014 was another year of lost opportunities for female concussions. Not for lack of trying, mind you. There were a few bright spots, but overall, female concussions did not garner enough serious attention this year. Again.
On the plus side, a very important study came out of the University of Washington. The study looked at middle-school girls soccer players and uncovered some troubling findings. On my HerConcussion.com site, I published my series regarding hormones and concussion. Also, Katherine Snedaker of PinkConcussions.com presented the results from her female concussion survey in a poster session at the American Academy of Neurology (AAN) Sports Concussion Conference in July.
On the negative side, a session devoted to female concussion was not on the agenda for that AAN conference, even though a request was made to add one. That's not unique. For the medical community and researchers, female concussion is still considered to be a "controversy" and specific sessions for it are not usually included at conferences.  A report by 60 Minutes also found that there are problems with the gender of research animals, which I imagine could be occurring with female concussion research.
I do see interest in female concussion increasing now at the end of the year, so I think there will be progress on this topic in 2015.
One of the biggest stories of the year also had a tie-in to female concussions. The Ray Rice video and subsequent aftermath highlighted the very serious nature of domestic violence. Many women sustain concussions and TBI due to assault. I'm not sure that everyone realized that connection, but it's definitely there. I certainly shared it as best I could.
4. Research
The medical and research communities have definitely stepped up efforts regarding concussion. This became more evident in 2014. I was pleasantly surprised on a number of occasions. A few years ago, I worried that people would lose interest in concussion, that a critical window of opportunity would close and funding would dry up. Now, I feel less concerned about that. I think that research will continue to be funded. I see interest in solving the concussion crisis growing, not waning.
In the past year, much important research has been released. For example, this includes white matter, teens and depression, drug and alcohol use, neck issues, blood biomarkers, and more. Thanks for working on it, everyone!
5. Neck Issues
Most focus regarding concussion revolves around cognitive issues. People take baseline cognitive tests before a sports season, and those tests are frequently used to determine the extent of injury and recovery status following a concussion.
In 2014, another aspect is becoming more prominent: neck injuries. A study out of the University at Buffalo Concussion Management Clinic found that neck issues can cause post-concussion symptoms and that such symptoms can be relieved by treating the neck issues. I think this will be very important, especially with regard to female concussion. I expect to hear more about this topic in 2015.
6. Return to Learn (RTL)
In 2012, RTL was a term I saw mentioned once in a while. It was just beginning to be used. In 2013, I started hearing about it more. In 2014, it exploded and is now considered a core principle when it comes to managing concussion. While the focus of many is when to Return to Play (RTP), there are those who believe that RTL is of much greater importance. I am in the latter category. At some point, people must realize that returning to a sport is nowhere near as important as returning to your life. Sport is not life.
Don't think that I'm opposed to sports or physical activity. I've been active my entire life and understand the benefits. I'm all for having an active lifestyle. I just think that RTL is more important than RTP.
On a related note, Long-Term Quality of Life (LTQL) is something on which I'm beginning to focus. It's a term I've just made up, but I think it's important to think about the long term, about what will happen decades down the road. There's too much focus on RTP as soon as possible. Life balance, RTL, and LTQL: that's what I think are most important.
7. Soccer
It was a World Cup year. There were some controversial instances of players being injured but not coming out of games. What was interesting was seeing the whole world reacting to some situations and calling them out.
Also notable was the soccer heading ban initiative started by the Sports Legacy Institute. There's a push to ban heading for those under the age of 14. I'm in full support of that for many reasons. This is a hot topic which will definitely spill over into 2015.
FIFA also had some lawsuits directed its way this year. One is for forcing rule changes to try and reduce concussions, and another affects use of artificial turf for females in 2015. Speaking of turf, another topic was the crumb rubber issue and the potential risk to health.
I feel that in some ways, soccer is where rugby was this past year. It could be a bumpy 2015. Change is coming, though, I think.
8. Heated Debates
Rest or no rest? Overreacting or underreacting? Helmet or no helmet? Sensor or no sensor? Heading or no heading? Pull your kids from sports – or not?
Sometimes, I think the only thing people can agree upon is what day of the week it is. This past year had more debates than I can recall. I see no end to these discussions. (That's a good thing, IMO.) What's happening is that awareness is high, but the knowledge and science isn't available (something concussees and PCSers know far too well). It's increasingly difficult to make decisions. Concussion is essentially newly-discovered. New information is coming out all the time, medical folks disagree about management approaches, much money is at stake, and parents are very concerned and don't know what to do. This unique dynamic has led to heated, passionate discourse on a variety of topics.
Two phrases come to mind when I think of all this discussion and what I heard uttered multiple times: "the pendulum has swung too far" one way or another, depending on your viewpoint, and "knee-jerk reaction" depending on whether you're thought to be acting on emotion or reviewing facts. In any case, it's been an amazing year with important points raised by all sides. I'm really looking forward to the conversations in 2015. Join in, and keep "we may just have to agree to disagree" handy!
9. Helmets
Yowza! Sizzler! This one is hot and increasingly complex. I simply can't devote all my time to this important topic, which seems to grow in size and complexity by the day. It's becoming an area of specialization in concussion, I think. I'm focusing on other aspects. One can only do so much.
There's testing going on, the Virginia Tech studies being the most well-known. New helmets are being introduced. New products are in development. Sensors are available. Helmet manufacturers are saying that warranties will be cancelled if sensors are added. Headbands for soccer are being used but are controversial. Helmet safety ratings are being reversed and rescinded. Discussions and debate are constant. One parent set up a successful crowdsourcing fundraiser to obtain new helmets for his kids school. Another news station checked helmet use throughout the state (one in Colorado did so last year). It has been an incredibly busy and active year. There is much interest in this topic, as there should be. While helmets do not prevent concussion, they can prevent other injury.
Keep an eye on this. I believe it will continue to be a hot topic in 2015.
10. Guidelines
Last year, awareness was still building and I think people and organizations were still trying to determine how to handle concussion. This year, I think they figured parts of it out – to some degree, at least. There was a flurry of guidelines published this past year.  More so than any year previous. Sometimes I think of dubbing 2014 "The Year of the Guideline."
There were NCAA guidelines. The AAN provided some great guidelines which addressed legal and ethical concerns – something you never hear about. (Kudos to the AAN for this one.) Because I'm such a fan of endocrinology issues related to concussion, I was very happy to see guidelines for neuroendocrine issues following mild TBI. Plus there were new hypothyroid guidelines from the American Thyroid Association.
Best of all though, in my mind, was the release of the Guidelines for Pediatric Concussion from the Children's Hospital of Eastern Ontario and Ontario Neurotrauma Foundation. Canada had much going on with concussion research and activity this past year. These guidelines are a great example.
To see links to all these, look at my Concussion Guidelines for Physicians post.
11. Increased Interest
Whooee. Interest in concussion skyrocketed this past year. Some good, some not so good.  There were more conferences and seminars, for instance, and more research. However, more businesses are diving in. It was a gold rush before this year, but it increased considerably in 2014 (I think). The number of non-profits also jumped. It's a very crowded space now, and I think people should carefully determine who and what to support. I'm not sure that everyone has the best interests of concussion in mind. Many see dollar signs, I think. I'm not going to explain or detail all that I'm seeing, but I'm concerned in some regards. Keep your eyes open, follow the money, look at business relationships, and see how long a business or non-profit has been involved before making decisions, IMO. Determine what works for you.
12. Lawsuits
Last year, legal news was mainly about the NFL players, NHL players, and NCAA lawsuits. Those still dominated legal news in 2014, but there were more lawsuits for more topics by more people. There were lawsuits against high schools, the Illinois High School Association (ISHA) suit being the most visible and debated.  Lawsuits against coaches and helmet makers occurred as well. I think this will continue into 2015.
13. Downplaying
Late in the year, I started noticing a distinct effort to downplay the seriousness of concussion. Everywhere I looked, I was suddenly seeing news stories about it. After working so hard to increase awareness, it's very troubling to see this backpedaling occurring. We could lose much ground if this trend continues. Who knows? Perhaps it could spill over into funding for research. This is no time to downplay.
14. Suicides and Deaths
A dark cloud hovers.
There have been too many deaths of players and suicides. I don't even want to write about it right now, but will come back to it. This needs to be addressed, though.
Over the course of these three years, I've periodically heard from people in a bad way or who know someone that is. Last year, I dropped everything to put together my Big List: Support Groups, Online Forums, and 24/7 Help Lines. I recently expanded it to include domestic violence and assault resources.
The need for support is there. If you're reading this and are experiencing difficulties, please reach out. You're not alone, and there are people that know what you're experiencing. Review my Big List to find support that works for you. A link is on my home page, and will always be there.
15. Missing Items
For all the activities and news with concussion, there were some notable absences. That is a story in itself and worthy of a listing here.
The field of Endocrinology is not engaged enough in concussion work, I don't believe. This is a very serious oversight, as many people struggle with endocrine issues. Females in particular are having incredible difficulties. I hope endocrinologists join the discussion in 2015 and work on this more. Endocrinology and hormones will continue to be a focus of mine, so I'll do what I can.
Journalism is also missing, IMO. I'm seeing too many news items that look to be press releases more than news. Also, I don't think enough fact-checking is occurring. What's needed are some in-depth articles and some news organizations to follow this long-term. Concussion is not a normal everyday news story. It's a public health situation which could and likely will affect folks the rest of their lives, or at some point decades down the road. Plus people don't know what to do because of all the bad information out there. Journalists and news organizations, please stay on top of this, question everything, and give it more serious, long-term effort.
.   .   .   .   .   .   .   .   .
In Closing …
Now it's time to review my own activities of the past year. I know my work has helped people, as I hear that quite a bit. I'm humbled by some of the comments and very grateful to have been able to work on this on people's behalf. To try and help PCSers, concussees, and caregivers – and to help the medical community, researchers, and public perhaps understand the varied difficult issues with concussion recovery. I continue to hear about the gaps. People continue to come to me because the medical folks they see don't know what to do. Support continues to be an important topic to me. It's a big reason why I periodically share a link to my Big List.
Midway through the year, I rebranded from FightingPCS.com to AllConcussion.com. That's a big change, and I appreciate my followers continuing down this path with me. I also put out more content on HerConcussion.com and kept that going.  As it has each year, my audience continues to grow.
There have been many times when I've been incredibly frustrated by what's happening with concussion. I'll open Twitter or read news articles or see things and then just have to close them because they're too upsetting. At this point, I'm looking ahead and determining how to proceed in 2015. I've been thinking about it a lot for several months, and know what I'd like to carry over and what I would like to do. Whether it's possible or not remains to be seen. Whether I'll continue or not is a decision I need to make. But those are stories for another day.
In the meantime, I'd like to give a big thanks to all the advocates, medical folks, researchers and others for working so hard on this. It's been an amazing year. And to concussees and PCSers, I say this (of course): hang in there! Never, ever give up. Look forward, everyone, to a great 2015.
Related posts: