If you're like me, baking cookies and more is an integral part and tradition of the holiday season. It can also be very tiring for a concussee. Through my years of dealing with concussion in all its various forms, I'm developed some shortcuts and techniques to minimize fatigue and help keep my baking tradition intact.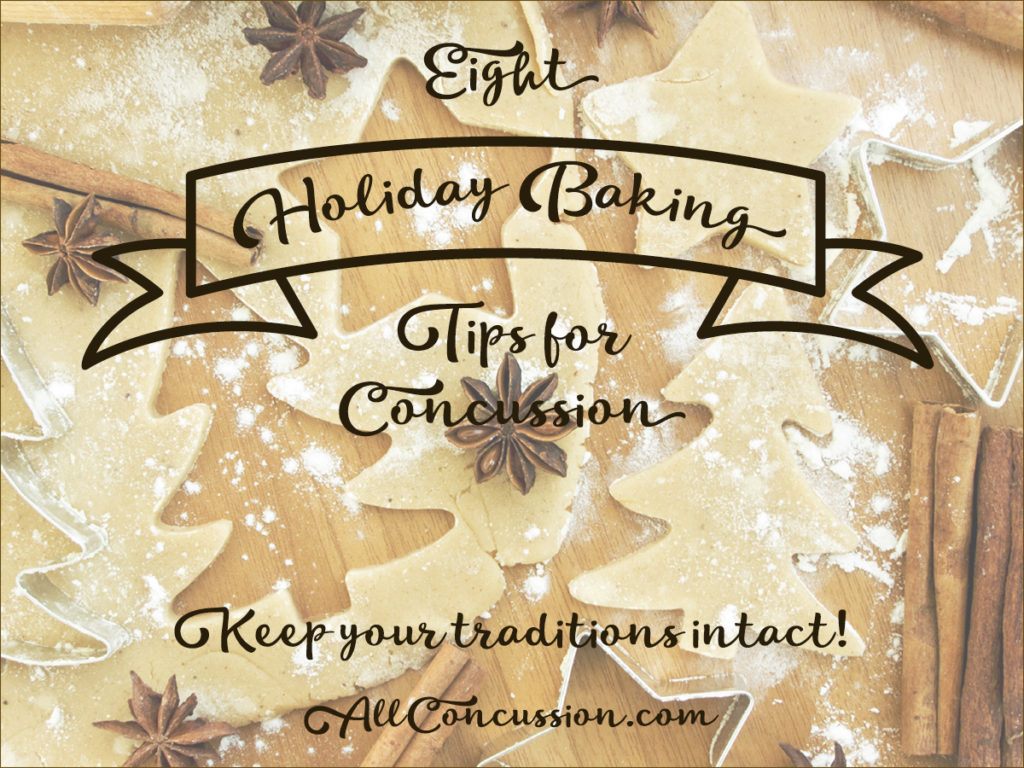 1. Minimize the number of roll-out cookies
I get it. Sugar cookies and the like are mainstays of holiday baking. All the cutouts, the decorating – everything. These are the cookies you often make with the kiddos, so it's an important tradition you might not want to miss. Those are the memory-makers, after all. They're also more time-consuming, however, since you have to make the dough, probably refrigerate it, and then roll everything out – and then bake them. If you can make a bit fewer of this kind and make others to augment them, it helps. For example, see item 2.
2. Look for recipes that provide the most mileage for time expended
So much effort goes into the mixing of batter and dough. Luckily, I found a gingerbread recipe that makes two loaves instead of just one. I use two pans and extend it even further. One is a regular bread pan. The other is a pan that has eight mini-loaves. The mini-loaves are great to give to people. I use the full loaf to cut into small bite-size pieces to have out at home (or wherever).
This year, I was thinking of making a recipe that was roll-out gingerbread snowflakes. But my neck has been bothering me, and I'm limiting my roll-out cookies to just sugar cookies this year. By making these loaves, I'm still able to bake some gingerbread. It's just in a different form.
So if you're making breads and there's one recipe that makes one loaf and another that makes two, go with the second. Or look for one that is for two loaves. Get more mileage.
Here's a link to the gingerbread recipe I use: Gingerbread Loaves
3. Make double batches of cookies
From the time I was a teen, I've always doubled my cookie batches. It saves much time. You mix the batter once and get more cookies. Sure, it takes a little longer to make more cookies, but all the preparation is done only once.
4. Have your ingredients on hand and ready to go
I assume you have everything you need beforehand so you don't have to make trips to the grocery store midway through baking. That's one step. This year, I figured out an additional time saver. My tradition is to do most of my baking in the days right before Christmas. It's a full day or two of baking as I can, basically. Well, I was getting tired of always pulling out the same ingredients. Even though I'd kept some out while baking, this year I went a step further. I pulled a large cake pan out of the cupboard and put all the most-often used ingredients in it. I'm talking vanilla, brown sugar, baking powder – basic stuff. Plus additional items as needed. They're all in one spot on the counter instead of here-and-there. Plus having everything in the cake pan sets it apart and it's easy to move everything if I need to. I love it. I wish I had thought of this sooner.
5. Make bars and cookies you can cut into pieces after baking
Think about making some brownies or something similar that cooks in a pan. Then you can cut them into small pieces. Now that's getting some mileage. For Christmas, I make fancier cream cheese brownies from scratch. They're special and I'm able to cut them small. You don't have to have big pieces of such items. People have so many goodies that you can get away with smaller pieces. Again, it's all about getting mileage for time and effort expended to allow you to keep your traditions as intact as possible. Look for recipes that provide this sort of opportunity to save time and energy. Things you can cut up after baking are much quicker than rolling out dough and using cookie cutters.
6. Plan your schedule
Once again, I'll use the gingerbread as an example. It takes an hour to bake the gingerbread loaves. During that time, I can mix up another batch of something (such as the brownies). Then they're ready to put in the oven when the gingerbread is done. Alternatively, it could be a nice break. An hour is a nice break time. If you're making cookies and have to check them continually every 10 minutes or something like that, you'll get tired more quickly.
Make the best of time expended. And be sure and fit in some rest periods. Long cooking times help with both.
7. Augment baked goods with special store-bought treats
My tradition is to make cookies and more and give them to friends, neighbors, colleagues, and others. For this, I splurge a little and buy special holiday chocolates. Then I can share some cookies, my mini-loaves, and some nice holiday treats. That means a little less cooking, it's less tiring, and it's a nice addition to the mix (I think, anyway).
8. Use your crockpot
The harsh truth during all this baking is that dinner time will eventually roll around. Oh yeah, there's that. When you've been baking, the thought of making dinner can be last on your mind. Not to mention that you might be tired come that time of day. This is a time when the crockpot saves you. Get it going when you need to and you won't have to worry. Better yet, go with a super-easy recipe. My favorite is putting a few chicken breasts in the crockpot and pouring a can of cream of chicken soup over them. The chicken can even be frozen. That literally takes minutes. Pair that with rice and a salad, and you are good to go. You could even cook the rice on your stove top while baking and then just heat it up later. Easy peasy!
.   .   .   .   .   .   .
That's all I can think of at the moment. You might have to make some adaptations in your plans, but it could perhaps help you keep this important part of your life. Don't overdo it, though. You might just have to let some things go.
Happy Holidays!
Related posts: