Lately I've noticed some websites recommending swimming as a light-activity option for return-to-play determinations. I believe that swimming should be on a case-by-case basis. For some, perhaps it should be held off until a later time in one's recovery. I come to this thought based on my first-hand experience. Here's why.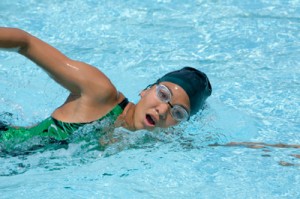 Swimming freestyle can make you dizzy
You're turning your head quickly, constantly. If you're having balance or vestibular issues, that quick turn might result in dizziness. If you're going to swim, perhaps something like breast stroke would be a safer start. Other strokes could be attempted as time goes on.
For me, I wasn't able to swim freestyle for a long time for that very reason: dizziness. Eventually I was able to. Just a bit at first. Then I would mix it up with breast stroke. Last year (year 4 of recovery) I was able to swim freestyle quite a bit, but not as much as this year (year 5). Now I can swim my triathlons with mostly freestyle. That is great, let me tell you. It has certainly helped my times. 😉
If you've experienced numbness, perhaps delay swimming until that resolves
The last place you want to be is in a pool or body of water if you experience numbness in your arms and legs. If that happens for you, as it did for me, and often without warning, you might want to consider staying out of the water until you no longer have those symptoms, IMO. Ask your doctor, for sure. Or, make sure someone is with you, which leads to my next point.
You should always swim where someone is watching you
Whether it's in a pool with lifeguards on duty, or swimming somewhere with people watching you do so, it's important to have someone nearby ready to help or call for assistance.
…………
If you love to swim and miss it, or just want to swim as part of recovery activities, just be careful. Know your limitations and listen to what your body says. And what your doctor says, of course.
Update: November 29, 2012. Please be sure and read all the comments for this post, as people have left additional information about issues when swimming after a concussion. I also continue to see swimming being listed in new places as a return-to-play option, which concerns me. Keep in mind that concussion is relatively new where science and medicine is concerned. People are really just learning about it. There's a lot of new information coming out with regard to concussions and treatment, so you're really going to have to be careful. Don't assume yet that everything is correct or right for your situation. I know that people are working hard on concussions, and that's wonderful. Just be careful.
Related posts: