Undoubtedly, you've heard of the five stages of grief. I believe that there are also five stages of recovery from concussion, and long-term post-concussion syndrome in particular. Based on my experience, this is what I think they consist of. And while much progress has been made in recent months and the past few years, I imagine much of this still holds true.
Note (11/16/15): I'm in the process of updating this post and will provide additional information soon.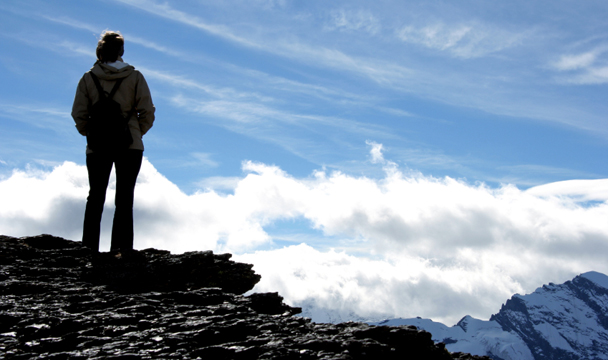 1: Injury
These are the days, weeks, and initial months immediately after the injury. Symptoms are at their worst. You have to rest a lot. Your life changes and you begin to adjust as best you can. Everyone around you is supportive.
You research on the web as much as you can. You want to know what is happening in your brain. You have tests done. You go from doctor to doctor, hoping to find something that works. Something might, but it may not.
If you're lucky, the concussion resolves quickly and this is all you experience. You never get to stage 2 or anything after that. You resume life as you knew it before the injury.
If the concussion symptoms and recovery persist, you eventually find yourself at the second stage.
Important: A concussion can change in the first several days. Even if you've been cleared by a doctor or an emergency room, symptoms could change and worsen. If you have any questions or are wondering if you should call a doctor or go to the emergency room, review the information on the CDC site to help make that determination: CDC: Concussion Danger Signs.  (Update on this site 5/27/15)
Update: March 13, 2015 Much has changed since I first wrote this post. This initial stage is very important. There's been much focus on Return to Play and Return to Learn. New guidelines have been coming out about that. If you're in this stage, I recommend searching for those two topics (RTP and RTL) to find more information. Also, at this time, the amount of rest following concussion is an evolving, hot topic of discussion and debate. Also, check the information in my Concussion Guidelines for Physicians post. There are links to important guidelines released in 2014 that might be helpful to you.
What hasn't changed is that if a concussion lingers, you still might have to deal with the situations I describe in the rest of this post. Read on!
Current concussion news and other information: click here.
2: Insult to Injury
It's commonly expected that your concussion will resolve within days, weeks, and certainly within a few months. If it goes longer, people start to turn on you. Physicians and those in the medical community, and insurance companies in particular begin to look at you askance. Your character is questioned and attacked, your supposed "motives" looked at suspiciously. You begin to hear terms like malingering and anxiety and accusations of varied sorts. You may be told that you suffer from somatoform – that you have the type of personality that puts forth a "best effort" to recover but that, in actuality, you're making the symptoms happen. In other words, you're bringing it on yourself. In other words, it's psychological, not physical. I disagree.

All these accusations occur because concussions aren't always visible on imaging tests. The MRIs and CT scans don't always show indication of concussion. While everyone knows this, they still use it as some sort of proof that there's nothing wrong with you. In my case, my doctors assured me that there was nothing physically wrong with me.
Cognitive tests may not show the problems entirely, either. I strongly believe that the time of day at which you take cognitive tests matters immensely. The tests should be taken when one is most fatigued, in my opinion. That's the only way to really see how bad it is, I think.
Once you reach six weeks, the tone and approach by doctors might begin to change. Don't be surprised if character attacks begin. You will learn what "insult to injury" really means. This is based on use of the "Miserable Minority" approach to treatment, I believe. I don't agree with the term and think it's very negative and derogatory. However, the medical community has been using this since 1995. I think that this is at the root of the change from treatment and recognition of the physical issues with concussion to a focus on emotional issues. Research that term and you'll see how many in the medical community view and treat post-concussion syndrome.
This is the point at which you have to fight not only the concussion itself, but all the doctors and insurance companies, and possibly your place of employment or school as well.
3: Hunker Down
At some point in this you'll realize that, for the most part, the medical community isn't aware of problems with concussion, let alone how to treat it. Or you've taken it as far as you can with treatment you've received to date.
Noone.knows.much.about.concussion. This, you finally realize. You are on your own. You realize that further doctor visits, research, or discussion with others are pointless. You stop those activities.
At this point, you hunker down and focus on your recovery, blocking out all else. You put on blinders and look firmly ahead, focus on the successes each day, no matter how small. You trudge on.
Never give up.
That became my motto. So I did, and eventually made it.
Note: This was my experience. This stage might be different for you. There's much research being done right now and more is becoming known about concussion all the time. I'm hopeful that this is getting better and will continue to do so. I think it will take time, though, for knowledge of concussion to become widely known. So it wouldn't surprise me to hear that you've tried to find doctors that know about it and how to treat it, but you've been unable to. If that's the case, and you're at this point, settle in. Keep researching, keep up with developments, keep trying, and focus on your recovery.
Update: March 14, 2013. I'm more hopeful than ever that this may be finally changing. I think the medical community is now more aware of concussion, at least. There is progress. However, I still hear about people having to deal with doctors who still know little about concussions and how to treat them. So, unfortunately, I don't feel I can change this until I stop hearing that this is the case. Keep up with all the changes going on. There's one way you can do so: follow my Twitter paper: the #Concussion Daily. Here's a link, and you can also subscribe to it so it's delivered in email: The #concussion Daily Paper.
Update: December 6, 2013. Wow. A day I never thought I'd see. Today, on Twitter, @the_jockdoc sent out a number of tweets about concussion and how it's not just a functional issue. And that tests like fMRIs, PET, and more are needed. Made my day! Things are changing, folks. Things are changing. Yet I still long for the day when I can change this section entirely. Until then – hang in there! Stay hopeful!  And please follow @the_jockdoc on Twitter. He's working hard on this issue.

Update: July 2, 2014 It's getting much better regarding awareness and interest by the medical community. I have more hope than ever. There's still much to do, but it's getting there.
Update: February 2, 2015 I'm more hopeful than ever that this is changing. There's been quite a bit of work in the last year in particular. However, I'm still hearing about difficulties with the medical community for those with PCS. So I can't take this little section down just yet. Hopefully, that day will come sooner than later. Hang in there!
4: Mountaintop
One day, you find that you made it. You hunkered down and climbed a mountain. The problems and symptoms resolve to a point to where you have important pieces of your life back. Or, you find that you can do much more. Whatever the case, you realize one day that it's behind you, for the most part. You made it.
The time it takes to reach this point varies from person to person, no doubt. For me, three years stands out, then four, then definitely five. At three years, I was finally able to ride my bike again. At four years, I finished a super-sprint triathlon. At five years – well, it's part of my history now.
The triathlon was my mountaintop. I also received some recognition for my blog, which I had started as part of my recovery. So that fourth year was my turning point. I specifically remember being out jogging and feeling very strong in my run. I realized that I would be able to participate in the triathlon. That was the moment I crested the mountaintop. It was one sweet moment, let me tell you.
5: Transition
This stage was a big surprise to me. Once on the mountaintop, I was finally able to take off those blinders. I could look around at everything else. I no longer had to focus on my recovery so much. I could stop blocking things out and instead look at everything. Start doing more.
That was a transition period. After several years of hunkering down, it took some time to get out of that mode. I didn't expect it, but there it was. It just took some time. It wasn't difficult. In fact, it was a very good time in my life. Very different, though. Yet very rewarding, to say the least.
I won.
I hope you do as well, if you have a long-term concussion and are reading this. Just remember: never give up. Never let the insults deter you or bother you. Focus on yourself and your recovery. Trudge on and climb that mountain. You can do it. Always believe that.
Keep your eye on the prize: stages 4 and 5.
---
Get New Content, News, and Information
Would you like to receive more information? Sign up for our newsletter to get information on concussions in general and female concussions.
Related posts: