Balance is a very important aspect of concussion and PCS. I believe it's overlooked to a great degree. The major point to remember, though, is that you may do well on cognitive tests and still have difficulties with balance. That's one reason why I believe that you should not rely on cognitive tests alone to determine recovery from a concussion.
You cannot "fake" balance problems
You can say you're not feeling any symptoms, and not have a test to prove otherwise. Sports participants in particular are known to state as such. Much of concussion is unknown and subjective. However, people can see a balance issue with just a few subjective tests.
It's measurable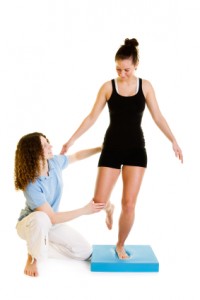 This is extremely important. Doctors and insurance companies like "proof" that a concussion exists. Most likely, they look at MRIs and CT scans for proof. However, it's well known that those imaging tests do not show concussion. Balance tests can provide data. Problems can be noted and progress tracked.
That said, there are two types of balance tests: subjective and measured (those are my terms). The latter provides the detailed recorded information that vestibular physical therapists can then use to determine a course of treatment. I've had the latter. It worked for me and definitely helped in my recovery.
Caution: These balance tests can make someone dizzy. For that reason alone, I think that it's good to have a trained medical expert conduct them.
It might help
Vestibular issues mimic concussion symptoms.
Possible Symptoms of Vestibular Disorders
The vestibular PT I had definitely helped me in my recovery. From what I recall, my doctor said that my brain was working harder to correct the balance issue, so I got tired more quickly. I noticed a difference, for sure. I think that much more attention should be focused on vestibular issues, and will research that myself in the next few weeks.
Subjective Testing
This relies primarily on the tester's observation. While I believe it can show problems, definitely, it does not provide exact data. I believe it could be used to identify a problem which could then indicate a need to move on to measured balance testing and treatment.
BESS (Balance Error Scoring System)
Description
Short tests including but not limited to having subject walk in a straight line, stand on one leg and then the other, stand with eyes open and closed, perhaps stand on a firm surface and uneven surface such as a foam cushion (such as that shown in the picture above)
Caution
You should have a person standing beside the patient to catch them in case they begin to fall. Also, these tests may make the patient dizzy or start experiencing concussion symptoms. If so, you probably should stop the test right then.
Administered By
Physicians, physical therapists, athletic trainers
Test Location
Physician's office, physical therapy, sporting event sideline: anywhere, basically
Equipment Used
Stopwatch (though not critical)
Foam pad upon which to stand for part of the test
BESS form on which to record observations
Romberg
| | |
| --- | --- |
| Description | Neurological test for balance and more |
| Caution | You should have a person standing beside the patient to catch them in case they begin to fall |
| Administered By | Doctors, physical therapists, athletic trainers |
| Equipment Used | None; observation only |
Measured Testing
The testing option I'm describing here is one that I'm familiar with. There may be others. I'll look into that when I get a chance. If you have questions or want to look into it or other options, just ask your doctor, of course.
Vestibular test using BalanceMaster and Forceplate
| | |
| --- | --- |
| Description | You complete some basic tests while standing on a forceplate. This has sensors of some sort that measure sway and all sorts of balance issues. The tests are similar to those in the BESS: tandem walks, quick turns, standing on one foot and then the other, eyes open and closed, firm and soft surface – that sort of thing. There may be more, but that's what I recall.This test provides measurable scientific data and is used to generate reports and determine treatment plans, and measure progress. In addition to the possibility of helping with recovery, it provides data which in my mind is "proof" that everyone looks for. I had this testing and resultant treament at vestibular physical therapy. That PT made a big, noticeable difference for me. |
| Notes | In some of my tests on the forceplate, the PT had a belt on me to catch any fall. |
| Administered By | Vestibular physical therapists |
| Equipment Used | The equipment used by the vestibular physical therapist I went to was a Balance Master. It includes a force plate upon which to stand. |
Related posts: